If you get "BSOD", Blue Screen Of Death,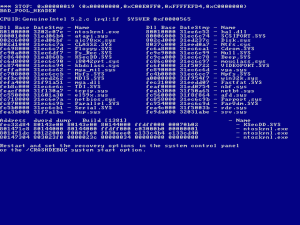 … then it may indicate a serious hardware failure. Most often, however, the device drivers or programs not working properly and needs to be updated. In any BSOD's clues as to what to look for, and the picture above shows where to look. In this case the problem BAD_POOL_HEADER and there are several things that can cause the error.
Faulty device drivers for computer hardware
A faulty virus
Problems to read or write to disk
Poor internal, defective memory sticks
Here's how to fix BAD_POOL_HEADER in Windows 7
Update all programs, drivers and operating system with the latest versions. Start with Windows Update, and then use programs like Intel® Driver & Support Assistant to automatically locate and update drivers if you have Intel.
If not the above work, antivirus software may be the reason. Try to pull the network cable from your computer (old. disconnect the wireless network) and then disable the anti-virus. Restart the computer. If the error persists, uninstall your antivirus and then test another. My recommendations are Avast and Panda Antivirus which are both free.
Check your hard disk for errors and run a program to locate bad sectors and other errors. HDD Health can check your hard drive and also DiskCheckup is worth testing. If any of these programs, visit inaccuracies may indicate a faulty or failing hard drive - backup and replace immediately! To run a disk check in Windows, go to
Explorer -> Right-clicking a device, such as. C: –> Select Properties -> Tools -> Error checking -> Click the "Check Now", or run the command:
chkdsk c: /f 
and or
chkdsk c: /r
— Do not drive /r on SSD —
It can also be bad RAM where one or more memory sticks are defective. To check these, you can run the Windows Memory Diagnostic Tool or the Mem86 application. To find the Memory Diagnostic tool, go to:
Control Panel -> Systems and Security –> Administrative Tools -> Windows diagnostics Minne.
If the tool finds memory errors, replace the defective stick or sticks. Recommends downloading Mem86.