Short guide about ripping music from CD to MP3 player.
Starta Windows OS Media Player via Start Menu and Program, application. Insert a CD with music. In the menu at the top of the program are a bunch of tabs which Rip is a, it is visible only if a CD is selected on the left. Under Rip brings up a menu. Here you can choose Format, select MP3. During Ljudkvalité can 192 kbps as an appropriate level for MP3 player.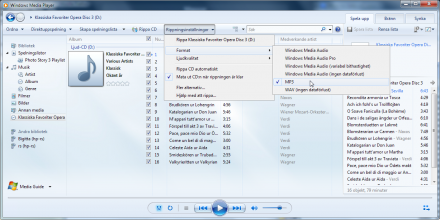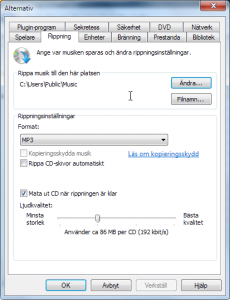 Under More options… tab Ripping setting it where the files are saved. A good place to store your music in Windows 7 is C:\\Users\\Public\\Music then all users on the computer listening to the songs.
It is possible that you, when the disc is stopped in, brings up a dialog box asking you if you want to rip the disc. You may as well start the process from here if you want.
If you do not change the rip settings as above, your new MP3 files in Windows XP that are saved in the >
Mina Dokument\\Min Musik
For Vista and Windows 7 files are saved in >
Musik-mappen which is accessed via the Start Menu. MP3 songs, you can then send on to your MP3 player in the usual way; see the manual for your MP3 player.
If you are not satisfied with how the file names are created, you can adjust this under Rip and choice More options... tab Ripping, and button Filename… that lets you determine the name format.
Windows Media Player included with Windows and can be upgraded here, download the program.
There are other programs to download as many times is better (here are some), but WMP with Windows so it may be useful to know.