Updates or Friends who hums too much, you can filter out.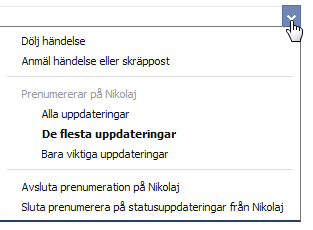 Move the mouse over a post as an arrow pops up, pointing down – to the right of the post.
Here you can choose which updates you want to see for this particular friend.
If one chooses "Hide event" comes more choice up, t.ex.
Change what updates you receive from "Rickard"
Want to hide all reminders "Reached games"?
Organize the content that appears in your news feed
You can also undo the "Watch again"
If you do not see anything from a Friend, you can Remove to a friend.