There are some Outlook fix for Outlook faster. I do this regularly or when Outlook is slow. I use a separate instance of Outlook, thus no MS Exchange and I have IMAP4 instead of POP3 but regardless it so I recommend these tips.
When Outlook 2007 is slow
Fix 1: Clean up your email.
I delete all emails that I know I will not need in the future. There is a good reason to do this even if you have a lot of hard drive space. When a new message arrives, Outlook allocates more disk space by expanding the size of your. pst file, it stores everything you have in your Outlook. The path to 'Outlook.pst' which is the default name:
c:\Users\<USERNAMNE>\AppData\Local\Microsoft\Outlook\
Over time your PST file becoming fragmented and very large, about 1 GB is common. Mine was over 0,9 GB before I cleaned. When deleting messages does not get pst file smaller, but the space is reused for new messages or other information stored in Outlook. In order to reduce the PST file must be compressed, see below
Fix 2: Archiving e-mail
This also helps to keep down the amount of information in your PST file. Archiving is basically to move your old emails and other information from your active PST file to another pst file that usually has the name archive.pst. In this way, information can remain in an archive that can be subsequently develop. There are automatic archiving option in Outlook, and you can set it according to your needs. I like to make it both manually and automatically.
Fix 3: Multiple PST Files.
Outlook can have multiple PST files open at once. Through experience, it has become very clear that the slow pace of Outlook are directly related to the size of PST file that works with. If the size of your PST is still more than 600-700 MB after deleting and archiving, you can split it into multiple PST files. I have multiple PST files, one for each company or project and one for private events. Add or create new PST files in File – Data File Management. You can also create different profiles that determines the PST files to be active. This is done in the Control Panel – E-mail.
Fix 4: Reindex.
When you have completed cleaning, Archiving, and move around in e-mail, construction of your search index. Med Outlook 2007 get Windows Search Integration that helps in the fast-searches. But since you moved everything around, the index is out of sync and although it will be in sync with the time, it is best to remove the old index and make a new. This ensures that you get the right results after maintenance.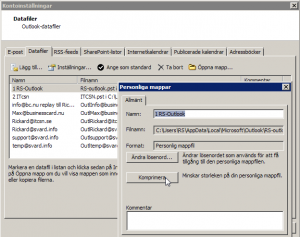 Fix 5: Compress your PST files.
As I mentioned earlier, deleting email does not reduce the size of the PST file . You have to manually compress the. Archive – Data File Management – Double-click a PST file – Click the Compress.
Fix 6: Defragment PST files.
This always gives a big boost to Outlook performance on my computer. You can defragment the entire disk or you can defragment individual PST files with the help of the program "Contig.exe"From Sysinternals. I've written about earlier. N.B.! Outlook must be closed before you do this.

Fix 7: Rules Maintenance.
If you use rules to filter emails and move them around so it's a good time to review them. There may be many old rules that probably are not relevant anymore, maybe you want to change the rules for working with your new PST structure.
Fix 8: Maintenance Mode – Turn off search.
When carrying out maintenance, stäng av Windows Search Service. When you move around a large number of e-mails, it can slow down your computer because it will try to update the index which you will build anyway, if you follow my advice.
Fix 9: Maintenance Mode – Turn off the preview pane.
Since you will be clicking and selecting a mass e-mail, you do not need to waste time for a preview is generated each time. This will help reduce the overall time of the maintenance task.
Now you will notice that Outlook starts much faster and just about everything you do in Outlook is faster. After half a year, it may be good to do it again.