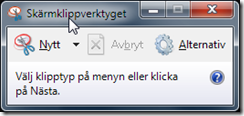 A small tool in Windows 7 that makes snip, screen dump.
Snipping Tool – A screenshot may be the key "Print screen "but to take a picture of any part of the screen or a window is a tool in Windows 7 called Snipping Tool. The tool can be found in the search field, type Snipping. Choose from the menu the type of cutout, click New.

A window opens and the image that is cut out can now be saved. If you take a lot of screens, it is better to install a program for this. Recommend a program called "PicPick".