Evernote Overview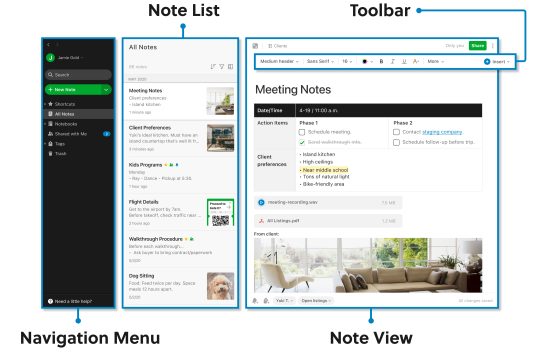 Remember Everything. That's the Evernote motto and that's what it allows you to do best. If you aren't familiar yet with Evernote, you're in for a real treat! If you have heard of it, but never really understood what the big hype was about it – my goal is that you will, after this article.
Evernote is a cloud-based service that allows you to save anything you want and then easily find it. But there are a lot of cloud services that allow you to save stuff, so what sets Evernote apart from the rest? Well, there really isn't one clear-cut answer to that, but there is one clear-cut article.
Evernote Is Traditionally Strong At Two Things:
Capturing anything you want to remember.
Searching for them quickly and easily.
It's Free
First off, before we go into all the in-depth details, you need to understand how Evernote works to truly appreciate the value of the product. No, not the software, but the business. Evernote does have a premium subscription at $5 per month, but they will never pressure you to purchase it. The free version simply has a small box where they advertise to you. But they're good advertisements about things you can actually benefit from.
It's Versatile
Evernote is a tool that can really be used for anything. People of all trades have found ways to add more value to their daily routine and businesses with Evernote. At first, you might not know all you want or even can do with Evernote. But don't let that discourage you. I think that pretty much every Evernote user at one time or another felt the same way.
As you use Evernote more and more, you'll develop a system and continue to find unique ways to let Evernote work for you.
It's Portable
With Evernote, you can access it literally from anywhere – your smartphone, tablet, laptop, desktop or a public computer via the web interface. Evernote comes with a desktop app for Mac OS X, Windows desktop and Windows 8 (Touch), as well as support for the mobile platforms – iOS, Android, Blackberry, Windows Phone and WebOS.
It Comes Loaded With Features
There are a lot of features and tools that Evernote has which enables you to capture what you want to remember and find it again later. Remember the part about it being free? The majority of these are available to you through the free version – which differs from the way a lot of other free software works.
Let's take a look at some of the features and how they all fit together.
Notebook Stacks.
Great storage options.
Source URLs.
Note geolocation.
Shared notes/notebooks.
OCR.
Merge notes.
Send to Evernote via Twitter and email.
Notebook Stacks
In addition to just having notebooks, you can also categorize them by "stacking" them under other notebooks. You might also call these "sub-notebooks", but Evernote officially calls them stacks.
Great Storage Options
What about space? Honestly, yes – the free version does have less space than what you'd get if you were to upgrade. But 60 MB per month is more than enough for notes and low-quality photos. Now, if you want to start using Evernote to save lots of high quality images, you'll definitely need to upgrade. Each month, though, the amount resets to zero, and you get another 60 MB for the following month. You can also see how much you're using as well.
In addition, there are some data limits. For instance, you are currently only allowed a size of 25MB per note if your a free customer and 100MB per note as a premium customer. Evernote also does put a limit on the amount of notes, notebooks, tags and saved searches that you can have. You are allowed 100,000 notes, 250 synchronized notebooks (all of which can be shared), 10,000 tags and 100 saved searches. As of now, this is the same for both free and premium customers. Think of a binder that has everything you need in it – 100,000 notes and 250 notebooks worth. That'd be a huge binder – except now think of the binder as the size of your phone, tablet or laptop. Not so overwhelming now is it? That's Evernote for you.
Is Evernote's storage unlimited? No, not technically. But it still is more than I will probably ever use, and I use Evernote for everything. And the great thing, again is that there is no long-term storage limits. Yes there are monthly upload limits and note-size limits, but in the long run, you won't ever have to worry about running out of space. Most services don't work that way, which is one thing that makes Evernote so awesome.
Source URLs
If you ever copy a text or image from the web, such as an email or from a web article, Evernote will automatically attach the URL which the content was derived from to the note. Pretty nifty huh? If it doesn't or you'd like to manually do it yourself, you can always copy and paste the URL in the Source URL field in the note.
Note Geolocation
Geolocation allows for the ability to look back at your notes and know where they were created. On many mobile devices, and even Macs (I think), this is automatic whenever a note is created. On my Windows computer, however, I have to manually add the location in. Even with the manual option, it still is a nice feature to know about.
Shared Notes/Notebooks
In addition to being able to save anything you want, you can also share anything you want in a variety of ways including Facebook, Twitter, LinkedIn, email and simply by copying the link to the notebook or note and pasting it wherever you'd like.
OCR – Optical Character Recognition
If you're unfamiliar with OCR technology, Evernote will blow you away. Basically, OCR allows you to search text in images. So if you scan a document in as a JPEG and you want to search for a specific word in that document, Evernote will detect it in that search.
Evernote also can index your PDF files to make them searchable via the OCR technology as well. This does come at a price, though at $5/month for Evernote Premium. That said, once you've indexed your PDFs, they will forever remain searchable. So if you opt to only pay for Evernote for a single month and scan all your PDFs in as documents, you will still be able to search them later once you're back as a free, non-paying customer. However, you should realize that any PDFs you add after that point won't be searchable via OCR.
Merge Notes
If there are ever two or even a series of notes that you'd like to combine into one note, Evernote allows you to do that. This works great when consolidating information from all over the web into one single document. Also, there are sometimes websites which break up articles into several pages. By clipping each one, and then merging the notes together, you're able to keep the entire article together and read it offline whenever.
Reddit even explains how to use this feature to make an eBook (they talk about using Evernote Clearly, but the Web Clipper works just as well).
So how do you do this? Select the notes you want by holding down the Shift key and clicking the notes, then right-click on one of the selected notes and click Merge Notes.
Send To Evernote Via Twitter & Email
With Evernote, you get your very own email address which is unique to you. Don't share this with anyone (although you are able to reset it). Just add it to your contact list and then whenever you want to save an email, forward it to Evernote.
In addition, there is a Twitter bot which you can tweet to and it will automatically send it to Evernote. Obviously you have to set it up first. Mark highlighted this feature in his article Archive Your Twitter Tweets Into Your Evernote Account With @myEN. And for more information on this, you can also check out the Evernote blog article Evernote + Twitter = Instant Memories.
Additional Tools To Enhance Your Evernote Experience
Not only is the Evernote app an excellent tool, but so are some of the other tools and apps that they create like Skitch, Clearly and Web Clipper. Of course, there is also Evernote Hello and Evernote Food, which are both mobile apps.
In reality, the Evernote Web Clipper is a must-have if you're going to use Evernote at all. It's a browser extension and bookmarklet that allows you to save whole webpages, articles, links and PDFs right to Evernote. From the Web Clipper you can specify the title, notebook, tags and add an additional description to it if you want.
Evernote Clearly
Clearly is another browser extension by Evernote that allows you to read articles without all the "bloat" (ads, website themes, etc). If you're looking for a stable extension with the ability to send articles to your Evernote, you should definitely give Clearly a go. And by referring to your previous settings, it can even automatically tag and send articles to the appropriate notebook if you choose to save the article.
Of course, you can always change it. For more information about Clearly, check out Justin's article about how it removes clutter from webpages, allowing you to read just the content.
Conclusion
Of course, this barely scratches the surface of Evernote. Evernote has a whole "trunk" full of apps and services that it is compatible with. Its interface is exceptional with a balance of customizations and cleanliness. I recommend that you really check out the service. But like I said, there's a lot more to it, so be sure to check out the following articles:
By Aaron Couch
Here is a very good guide of other note application written by: Ritika Tiwari

Best Note-Taking Apps