Tidningen The Sun, skriver en artikel om Facebook i Luleå.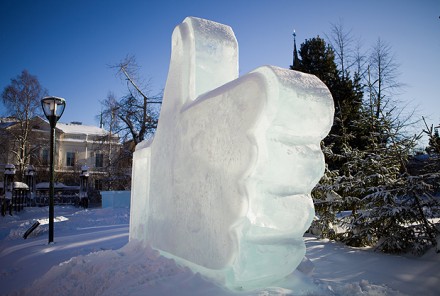 thesun.co.uk
Facebook keeps your photos in the freezer
by

From DAN McDOUGALL, in Lulea, Sweden

•

Jan. 24, 2013
In this remote Swedish community the pale sun rises at 10am, sets at 2pm and the midday temperature is a perishing -30°C.
Yet this inhospitable, frozen wilderness just 60 miles south of the Arctic Circle is about to become vital to the 40million Brits who love Facebook.
From May, Lulea will become a permanent home to store the social networking site's data as it battles to cope with the activity of its 850million global users.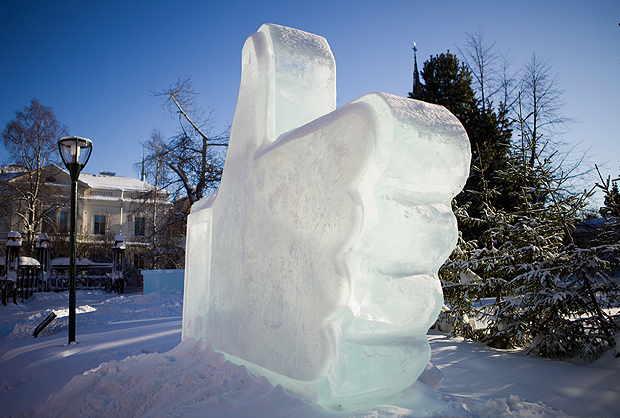 Thumbs up … Lulea offically 'likes' Facebook
Everything from users' dodgy party snaps to their baby's first smile and status changes from single to married (and maybe back again) will end up stored here.
Currently taking shape here in the heart of a 2,000-year-old pine forest is a Facebook data centre which will be the biggest facility of its kind in Europe — the size of 11 football pitches.
Already there is a growing belief among locals that Apple and Google data centres will follow suit.
This would create a "Node Pole" stretching across the entire Arctic, turning one of the most hostile places on earth into the new cyber frontier and, in the process, attracting five-star hotels and sending property prices through the roof.
That Facebook has decided to settle in Lulea is all down to the Mayor and a consortium of local entrepreneurs — although they still find it hard to believe that their enterprising idea has paid off.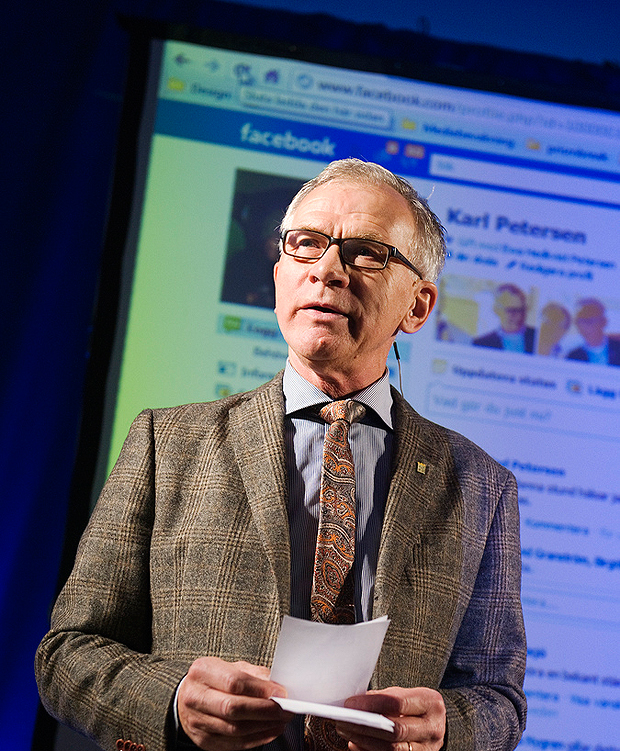 Mayor … Karl Petersen
Mayor Karl Petersen is smiling from ear to ear as he recalls to The Sun the phonecall he took in 2011: "Mr Mayor? How are you? It is Facebook here. We have some very good news. I thought you should be the first to know. We are coming to Lulea."
Mr Petersen, 70, adds: "I couldn't believe my ears at first. I really couldn't.
"They were coming here to Lulea. They were making our community the home for their first base outside America.
"It really felt like we had made history. Of course, we were very, very happy. Over the moon, in fact. To think, Facebook here in our community. Remarkable."
Why here, you might wonder? Well, the big draw is that Lulea is shivering in sub-zero temperatures for six months of the year.
The cold solves the difficulty of servers overheating — a problem which has grown along with our internet usage.
In 2012 the number of internet users topped 2.4billion, more than a third of all the planet's population.
Brits alone spend on average 32 hours a week glued to a smart phone or computer screen. Meanwhile, 65 per cent of us bank online, 70 per cent use social networking sites and 50 per cent store photographs on the web.
With our smart phones, laptops and iPads forming the cornerstone of modern existence, we are each creating so much electronic data — in the form of stored emails, photographs and movies — that it's energy draining storage has become one of the biggest technological challenges in history.
Each time we download a song or upload a photograph it is retrieved from or physically adds to huge data warehouses.
These are mainly housed in rural corners of the US, where racks of servers pump out an extraordinary amount of heat and use more electricity than many small cities to keep all our precious emails and search engine data secure.
Crucially, if they overheat the chance of computer malfunction increases substantially. As a consequence, cooling equipment now accounts for 40 per cent of the energy used in data centres.
The situation is so bad that Greenpeace predict the seemingly endless amount of data we create could become the new oil in terms of both pollution and energy use.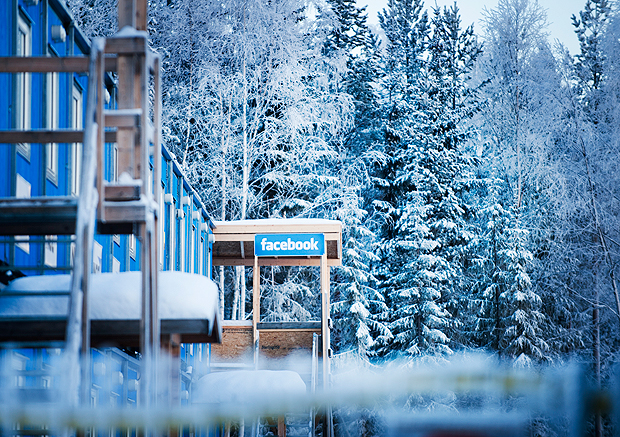 Cold storage … the Facebook data centre
The solution is simple — head for the frozen north. That was the conclusion Matz Engman, the ambitious chief executive of the Lulea Business Agency, came to. Faced with the decline of many traditional industries, he looked to Lulea's strengths.
Mr Engman says: "Well, we have the cold for starters. Believe me that is a big strength, our freezing dry air and the snow, and we haven't had a power cut since 1970.
"Our electricity is the cheapest in Europe, with a 50 per cent surplus.
"Our rivers create a lot of hydropower that we never use.
"We also live in a virtually crime free and politically stable society.
"It seemed to me that we were the perfect place for the internet to live."
Backed by the Swedish government, Mr Engman formed part of an advance party of Lulea businessmen and residents that travelled to Palo Alto in California, the home of Facebook and other online giants, to sell the frozen wilderness to them.
He recalls: "I'm not sure what they thought when we first suggested Facebook could live in the frozen north of Sweden, but they listened to us with great respect.
"We had a great deal in our favour. We had a well-known technical college and a local firm had created the first GPS signal. But above all we knew Facebook servers consumed enormous amounts of energy, making them expensive to operate.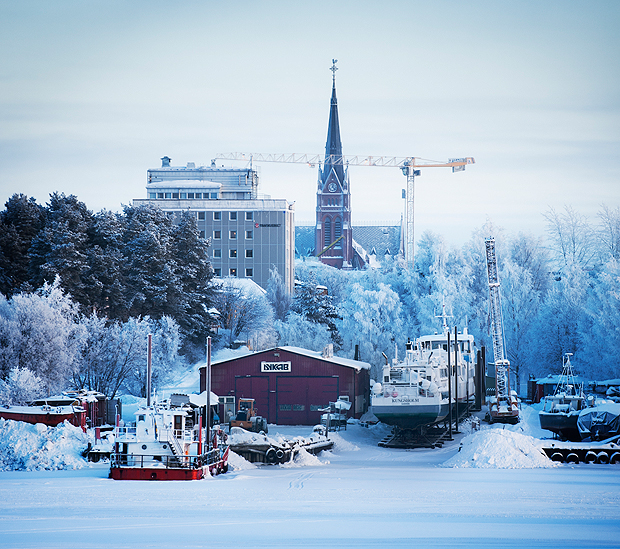 Life is Swede … the town of Lulea
"We knew sucking in freezing outside air and piping in water to chill the Facebook servers, as well as using hydroelectricity was the best solution for them. Cold air, which is free to us, is costly to Americans.
"So we told Facebook, 'Come to the Arctic'. We have cheap electricity but, more importantly, our cold air could cool their hundreds of thousands of servers, which in the US they must use generators for.
"It took a further 18 months and 12 meetings until the call was put into the Mayor. The call that said Facebook was coming."
By 2020 experts predict that the Arctic spanning Sweden, Norway and Finland — one of the coldest and most desolate places on earth — could house hundreds of heavily-guarded data farms. These would contain every single detail of our modern lives, from our social media status to our employment, medical and financial records.
In the words of one expert, if the world is caught in a cataclysmic flood, places like Lulea could effectively become the equivalent of the biblical Ark. Perhaps the only chronicle of life on earth left standing.
Back in Lulea itself, the Facebook effect is already in evidence.
A five-star hotel is slowly taking shape in the small harbour. Two posh restaurants have recently opened in the high street, selling imported red wine from France and delicious reindeer steaks. And property prices are up by as much as 19 per cent.
A local estate agent claims: "We are seeing huge property gains. We can expect more condos and apartments to be built to cope with demand.
"Facebook is transforming us from a backwater to a major hub."
In the library of the local university, one of the most northerly in the world, the Facebook effect has sent admissions soaring by 20 per cent in the last six months alone, with students from as far afield as China and Australia applying to attend.
With so much positive activity, it is little wonder that Mr Engman and the rest of his consortium in Lulea are already thinking of life beyond Facebook.
It is no idle boast when he says, confidently: "This is just the beginning. What we want is to be the actual hub for all data traffic in Europe."
The stats
-30°C midday temp in Lulea
4 hours of sunlight every day
11 footie pitches can fit in building
2.4bn people use the web
70% of Brits use social network
50% store photos on web
65% now bank online
1970 last power cut in Lulea