One of the most annoying problem with Windows is when the hardware manufacturer does not develop a proper driver for each operating system. Sometimes the manufacturer releases an updated version which you then need to install on top of the older version.
If, for example, use a removable USB hard drive, which has not been plugged in, Windows will install the correct driver for the. When you remove the device retains the Windows driver so that they will be ready the next time you connect your device.
What happens to drivers when replacing a graphics card, network or a printer that has been discarded? What happens to the driver if you never connect the device to the computer again? It is still present but not visible.
Remove the old drivers on Windows
Over time, your computer will collect an increasing number of unused drivers that remain in the system that can cause problems if they are somehow activated. In some cases, they can also cause conflicts and to make matters worse, when you want to use the same device after a long period of inactivity, even if you reinstall an updated version of the driver, Windows can still use the older version of the.
So how do you get rid of these old and useless drivers? How do I.
By default, Device Manager will display only those drivers who are active are currently using. The old that is not used is not visible.
Description
Go to Control Panel and double-click System. You can also right-click "Computer" On the Start menu (or on the desktop if it appears there) and select Properties.
A faster way to open up the properties for the system is press the Windows key on your keyboard and press the Pause / Break while.
Click on "Advanced System Settings" and then click the button "Environment Variables".
In the "System Variables" click on the button "Ny…".
In the new System Variables dialog box for the variable name, write:
devmgr_show_nonpresent_devices
… or copy the text above and paste it and give it the variable value: 1.
Click on OK.
Log out and log in.
Open Device Manager: Control Panel> System> Hardware> Device Manager.
On the "View" menu select "Show hidden devices" and notice the change. Now you can see drivers who are not active with a slight gray tint.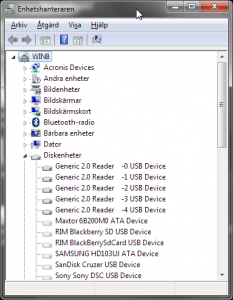 Drivers who wish uninstalled can now be selected and deleted with the Delete key or right click and select Uninstall.