When Windows detects a new network given the opportunity to select the type of network location. But when it is already selected, it can sometimes be difficult to change.
Network – Select a network location
Home Networking
Workplace Network
Public Network
To dialog box looks: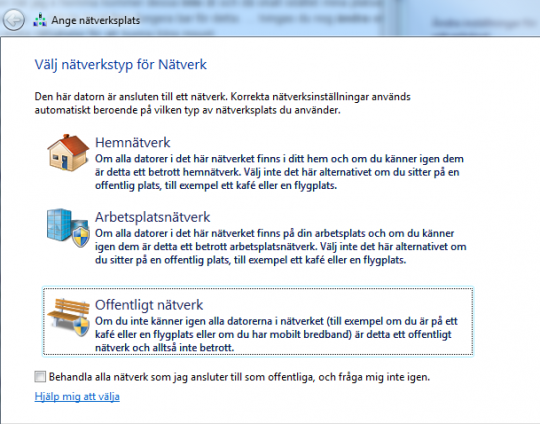 This is rarely a problem to choose. The problem sometimes occurs when the network location is already selected, for example,, Public network and you wish to change but you can not. See the picture below, This can be changed for Home network but not for Public Network.
The solution I use is to disable all network adapters – enable network adapters again and then you can get the opportunity to choose the network type again unless, go to the Network- and Sharing Center > Choose homegroup, click What is a Network Location, and select the network location. HomeGroup, you can skip and just finish. A more detailed instructions found further down.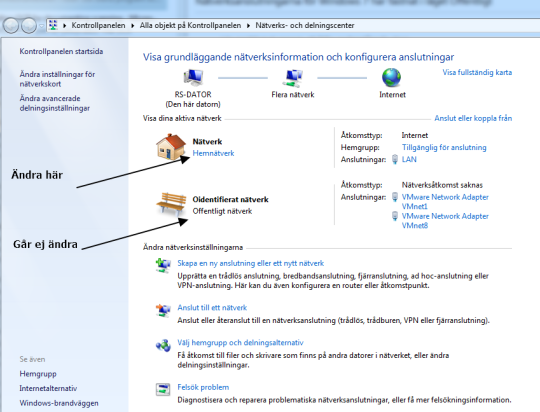 Sometimes you have Group Policy is changed:
Go to the Windows search and running and then press enter.
In the window that opens, type gpedit.msc and then press ok.
In the box that now appears, open the following:
Datorkonfiguration --> Windows-inställningar --> Säkerhetsinställningar -->Principer för nätverkslisthanteraren
Now double-click on the name of your network (My name only "Network").
Visit the Network tab Location –> Location type: Select Private. Ok.
Detailed instructions
To resolve this issue, follow the steps below:
Close and interrupt your applications using the network.
Click onStart, writeDevice in the windowSearch Programs and Files and then pressReturn.
Browse the list of devices and click to expandNetwork Cards
Right-click on the first card under Network adapters, and clickDisable.
(Repeat this step for all network adapters on the computer under Network.)
N.B.! After each change scansDevice Manager hardware again. The screen may blink when the update, it is expected.
While you are still in Device Manager, activate again the card that is associated with the setting for the public network you are trying to change.
(Example: If you try to connect to a wireless network, enable the wireless card.)
N.B.! The system detects that the network pops up again and try to connect. The connection attempt may fail, but that's okay, it is expected.
Click Start and typeNetwork- and Sharing Center in the windowSearch Programs and Files, and then clickNetwork- and Sharing Center The Listan
Under Change network setup, click Choose homegroup and sharing options.
Click onWhat is a Network Location? and select the network location.
N.B.! Follow the remaining prompts to proceed to set up a homegroup. A homegroup is not mandatory, so you can even finish installing the homegroup when you have selected the correct network location.
The last step is to re-enable the remaining cards one by one in Device Manager. Right-click in that case all the inactivated cards under Network and click theEnable.
When all network adapters are enabled, you can disable Device Manager, and then you are ready.